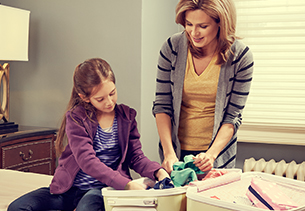 Life doesn't just happen at home.
Whether you're hitting the open road or heading to the airport, travel can become more complicated when you or your child has an increased risk for a life‑threatening or severe allergic reaction (anaphylaxis). That's why it's important to be careful to avoid allergens anywhere you go. And wherever life takes you, don't forget to pack EpiPen® (epinephrine injection, USP) or EpiPen Jr® (epinephrine injection, USP) Auto‑Injectors.
By taking a few precautions, you can reduce the risk of a life-threatening allergic reaction (anaphylaxis) while flying.
Start with a little research.
Before booking a flight, ask your healthcare professional about your risk of anaphylaxis aboard an aircraft and about key precautions you can take. If you're cleared for air travel, call your airline to report your potentially life‑threatening allergies and find out about the foods and snacks being served on your flights. Before you leave, locate an allergist or hospital near your destination, just in case.
B.Y.O.F. (bring your own food)
Rather than relying on airport food vendors or the airline, pack your own snacks for the trip, and bring extra in case you're delayed. The Transportation Security Administration (TSA) permits air travelers to carry food from home onto planes—just make sure it's wrapped or in a container.
TSA regulations for medications
You may request that your EpiPen® Auto‑Injectors be inspected visually rather than X‑rayed since the effects of X‑rays on epinephrine are unknown. Make sure your epinephrine auto-injectors and medications are clearly labeled; you may want to write your name on them as well. It's not necessary, but you may want to also bring a note from your physician explaining that your EpiPen® Auto‑Injector contains epinephrine—a medicine for anaphylaxis.
Be the first to know!
Sign up now to stay in the know with the latest news and exclusive offers delivered right to your inbox!
Intended for US residents only. For more information, please review our
Privacy Policy.
Get EpiPen® Auto-Injectors for as little as $0 with the My EpiPen Savings Card®!
Save up to $300 »

Eligibility restrictions apply.
Terms and Conditions »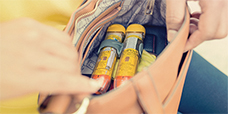 Learn where to find your EpiPen® Auto-Injector expiration date.