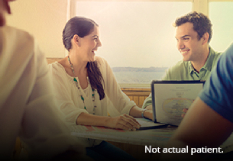 Be prepared. Plan ahead.
Dining out can mean eating at a restaurant, having a meal at a friend's house or attending a dinner party. Whenever you eat away from home, it's important to plan ahead. Here are a few things to keep in mind…
Be careful to avoid your trigger foods...and know their alternative names.
Hidden or surprise ingredients, such as crushed nuts in pie crust or foods cooked in peanut oil, are a common cause of life‑threatening allergic reactions. In addition, some products used by chefs, including sauces and dressings, may list ingredients by alternative names. For example, peanuts may be called "ground nuts," "beer nuts" or "monkey nuts."
Check the menu on a restaurant's website, or give them a call.
Before dining out, read the menu thoroughly. Menus are often available on the restaurant's website. And you can always pick up the phone—this works well if your dish will require special preparation, or if you'd like to know about the ingredients in any daily specials. Allergyeats.com is also a good resource for finding allergy‑friendly restaurants.
Talk to the wait staff or chef.
It's important to make restaurant employees aware of your food allergy. They may receive little or no training on the severe nature of food allergies. They may not be aware of the need to read and understand ingredient labels, the importance of strict avoidance of certain foods and the danger of cross‑contact during food preparation.
An allergy card can help make things clearer.
Consider carrying an allergy card with your name, your food allergy and specific ingredients to avoid, and share it with your server. While convenient, these cards don't replace telling the restaurant about your severe allergy. Explain your condition thoroughly before any food is brought to the table, and request that certain ingredients not be used in your food.
Bring your EpiPen® (epinephrine injection, USP) Auto-Injectors (or Mylan's authorized generic) when eating away from home
Even if you are vigilant in avoiding your allergens, anaphylaxis can be unpredictable, so it's essential for you and your loved ones to be prepared in the event of an emergency. Make sure you speak with your healthcare professional about how to identify the signs and symptoms of anaphylaxis. If you, your child or someone you're caring for shows signs or symptoms of anaphylaxis, use your EpiPen® or EpiPen Jr® (epinephrine injection, USP) Auto‑Injector (or their authorized generics) immediately as prescribed and seek emergency medical care.