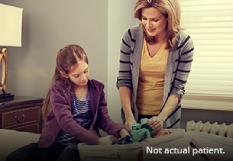 An opportunity for everyone to learn about anaphylaxis
Classrooms and camps are common sites of severe or life‑threatening allergic reactions (anaphylaxis), so it's important that your child with potentially life-threatening (severe) allergies is prepared with an anaphylaxis action plan should anaphylaxis occur.
Start with the basics.
Teachers, camp counselors and other caregivers need to be prepared, too. Share epipen.com with them where they can watch a step‑by‑step video.
The EpiPen

4

Schools® program.
With the EpiPen4Schools® program, Mylan offers four free EpiPen® (epinephrine injection, USP) or EpiPen Jr® (epinephrine injection, USP) Auto-Injectors, upon qualification, which includes having a valid prescription, to public and private kindergarten, elementary, middle and high schools in the US.
To participate in EpiPen4Schools®, a school nurse or other authorized school representative must visit www.EpiPen4Schools.com to download the order and certification form, and then fax or email the form with a valid prescription to 1-973-718-4328 or info@bioridgepharma.com. Alternatively, school representatives can call 1-973-845-7600 to speak with a live representative. There is no requirement for a school to purchase additional EpiPen® Auto-Injectors or any other Mylan Specialty products.
Have kids in school? Request a 504 Plan.
Section 504 of the Rehabilitation Act of 1973 and the Americans with Disabilities Act of 1990 (ADA) are major pieces of federal legislation designed to protect the civil rights of individuals with disabilities. They define a disability as "an impairment that limits a major life activity." If you have a food allergy, three major life activities—eating, breathing, and caring for yourself—could be affected.
If your child's school lacks a comprehensive policy on anaphylaxis and you want to document how teachers and other staff will need to accommodate your son or daughter, you may want to request a 504 Plan.
Developed by the school in collaboration with you and your child, the plan will detail your child's medical needs and the precautions that must be taken to keep him/her safe. It may also address the way snacks should be served and stored, how often your child should wash his/her hands, how the classroom should be cleaned and other issues.
Before creating a 504 Plan for your child, school administrators may request medical documentation from an allergist or pediatrician.