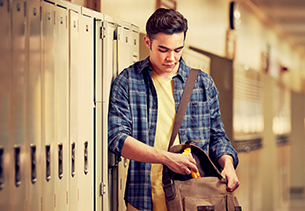 An opportunity for everyone to learn about anaphylaxis.
Classrooms and camps are common sites of severe or life‑threatening allergic reactions (anaphylaxis), so it's important that your child with potentially life-threatening (severe) allergies is prepared with an anaphylaxis action plan should anaphylaxis occur.
If you think you may be impacted by the EpiPen
®
(epinephrine injection, USP) Auto-Injector Voluntary Recall, it is very important that you first contact Stericycle at
877-650-3494
.
Stericycle's hours of operation are Monday-Friday 8 a.m.-10 p.m. ET, and
Saturday and Sunday 8 a.m.-5 p.m. ET.
For a list of impacted lot numbers and the most up-to-date return information, visit
mylan.com/epipenrecall
Sending the kids off? Stock up on multiple EpiPen 2-Pak® cartons as prescribed.
Save up to $300 »
Eligibility restrictions apply. Terms and Conditions »
Know what to do in an emergency? How about those closest to you? Watch and share this step-by-step video.