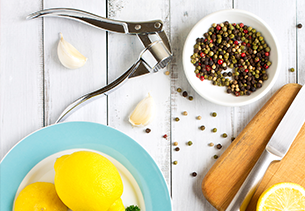 Allergy-friendly Food Guide
Make smart eating decisions
If you or your child is living with a potentially life-threatening (severe) food allergy, you need to be very careful to avoid the allergen(s) you need to avoid. With a large dose of caution, you can still embrace food, whether cooking as a family or dining out with friends.
Try these resources to get started:
"Get Cooking! Recipes to Shake Up Your Weekly Menu"*
Download this free cookbook complete with 14 tasty, allergy-friendly recipes. Before preparing any of these recipes, it's important to be aware of severe allergic triggers and to be sure each recipe meets your or your family's personal needs, as well as the needs of those you are cooking for. Check out just some of our favorite recipes below:
Lazy Pumpkin Soup
Lazy Pumpkin Soup
by Jenny Sprague
INGREDIENTS
1 can (15 ounces) pumpkin
1 can (15 ounces) unsweetened applesauce (I buy the large jars for use in recipes!)
1 can (15 ounces) rice milk or coconut milk (I am SURE So Delicious® plain coconut milk would work great in this as well!)
1 can (15 ounces) chicken broth
½-1 teaspoon salt, pepper
1 tablespoon ground ginger
Dash of cinnamon
COOKING INSTRUCTIONS
Combine all ingredients into pot.
Bring soup to a simmer, stirring occasionally. Serve and enjoy!!
Pretzel Hummus Chicken
Pretzel Hummus Chicken
by Tracy Bush
INGREDIENTS
2-3 pieces of chicken
½ cup crushed gluten-free pretzels
½ cup cornmeal
⅓ cup flavored hummus
COOKING INSTRUCTIONS
Preheat the oven to 350°F. Wash the chicken pieces and dry them.
In a medium bowl, combine the crushed pretzels and cornmeal, combining well. Using your hands, spread the hummus onto the chicken and then coat with the pretzel cornmeal mixture. You may need to coat a few times to get a thorough texture.
Place the chicken in a shallow baking dish and bake until there is no pink meat and the juices run clear.
Egg-Free Muffins
Egg-Free Muffins
by Ruth Lovett-Smith
INGREDIENTS
2 cups all-purpose flour
½ cup granulated sugar
3 teaspoons baking powder
1 teaspoon baking soda
1 tablespoon lemon juice
1 cup half-and-half (or light cream, milk or milk substitute)
½ cup applesauce (you can also try mashed ripe banana)
½ -1 cup chocolate chips (we use mini-chips, you can also use blueberries or other fruit instead)
COOKING INSTRUCTIONS
Preheat oven to 350°F. Use muffin liners or lightly grease 12 large muffin cups or 24 small ones.
In a large bowl combine all ingredients except chocolate chips (or fruit if using).
When batter is mixed, add in enough chocolate chips (or fruit) to suit your tastes.
Batter should be thick but not too dry. If it's dry, try adding a small amount of additional applesauce or half-and-half.
Spoon batter into prepared cups, filling halfway. We like to sprinkle the tops with a bit of brown sugar and some mini-chips.
Cook for 15-20 minutes until muffins raise and set.
Smooth Monkey Smoothie Drink
Smooth Monkey Smoothie Drink
by Caroline Moassessi
INGREDIENTS
⅓ cup vanilla yogurt of choice based on your allergen (dairy-free, soy-free, etc.)
1 banana
¼ teaspoon vanilla extract from Madagascar
½ cup frozen mango chunks
⅓ cup crushed pineapple
½ cup guava juice
⅓ cup coconut milk (optional)
1 cup ice, cubed or crushed
COOKING INSTRUCTIONS
Blend together vanilla yogurt, banana, vanilla extract, mango chunks, pineapple, guava juice and coconut milk (optional) in food processor or blender.
Add ice and continue to blend until ice is fully mixed in.
Chicken Enchiladas
Chicken Enchiladas
by Lisa Rutter
INGREDIENTS
1 package of chicken breast (cooked and cut up)
1-2, 8 ounce cans of enchilada sauce (red or green)
1 package of flour tortillas (taco size)
1 package of Mexican style shredded cheese
1 head of iceberg lettuce or romaine, cut up
Optional Ingredients
Sour cream
Diced or minced green chilies
When cooking the chicken, use seasonings of your choice
COOKING INSTRUCTIONS
Set the oven to 400ºF.
Heat tortillas in the microwave to soften them up.
Place a tablespoon of chicken in each tortilla.
Drizzle the top of the chicken with a little bit of sauce and cheese.
Roll tortillas and place them tightly against each other in a baking dish (line dish with nonstick foil or use cooking spray).
Take the remaining enchilada sauce and cover the tops of them in the sauce (this is when a second can may be needed).
Cover loosely and bake for 30 minutes.
Remove foil and bake an additional 30 minutes or until the tops are a little crispy.
Remove and top with the desired amount of cheese and then put back in the oven until cheese is melted.
Top with cut up lettuce and serve.
Pulled Pork Cornbread Sliders
Pulled Pork Cornbread Sliders
by Keeley McGuire
CORNBREAD INGREDIENTS
1 cup of cornbread mix (we like Hodgson Mill® Gluten-Free Cornbread Mix—It's gluten-, dairy-, & egg-free and made in a nut-free facility)
1 egg replacer (we use a flax egg) or 1 large egg
½ cup of unsweetened applesauce
½ cup of non-dairy milk (we use rice milk)
4 teaspoons of honey
PULLED PORK INGREDIENTS
Approx. 11/2 lbs. pork ribs, boneless (I use Country Style Pork Boneless Ribs. It tends to be leaner, less fatty, and cooks up nicer).
1 bottle Sweet Baby Ray's® Sweet & Spicy BBQ Sauce
1 can of beef broth
2 slices of diced onion
CORNBREAD COOKING INSTRUCTIONS
Preheat oven to 350ºF and coat muffin tin with cooking spray or oil.
In a medium size mixing bowl, combine all the above ingredients. Mix until a smooth batter is formed.
Pour batter evenly into muffin tin cavities.
Bake for 25-30 minutes. Remove from oven and let cook 5 minutes in pan.
Move cornbread muffins to cooling rack and let cool completely.
Slice muffins horizontally, creating a bun for your sliders.
Fill with leftover pork and sandwich together. Enjoy!
PULLED PORK COOKING INSTRUCTIONS
Spray your crockpot with cooking spray. Spread the diced onion over the bottom of the pot. Put pork on top of onion bedding evenly. Pour about ¾ of the can of broth over top, covering the pork. Cook on low for 6-8 hours.
After the cook time, shred pork with a knife and/or fork. Add bottle of sauce and cook for an additional 30 minutes or until heated throughout.
All trademarks are the property of their respective owners.
AllergyEats
Need an allergy-friendly restaurant? With more than 700,000 restaurants on file, AllergyEats is the leading guide for allergy-friendly dining across the United States. Just fill in the fields and find a restaurant that suits your preferences!
*Check with your allergist to make sure you are not allergic to any of the ingredients in these recipes before incorporating them into your diet. People with food allergies are often allergic to more than one food. When grocery shopping, it's important to read food labels to ensure that the specific brands you are purchasing do not contain any of your allergic triggers.
Be the first to know!
Sign up now to stay in the know with the latest news and exclusive offers delivered right to your inbox!
Intended for US residents only. For more information, please review our
Privacy Policy.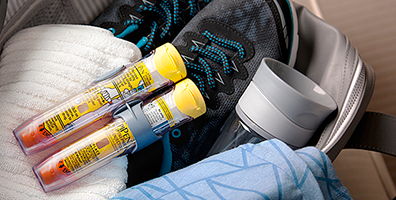 Do you know the warning signs of a life-threatening allergic reaction?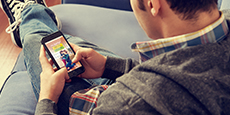 If you have EpiPen
®
Auto-Injectors, you should have the My EpiPlan
®
app.