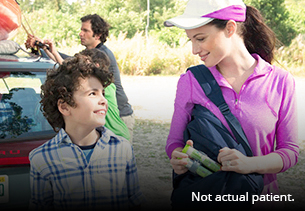 Honeybees, yellow jackets and stinging ants…oh my!
Most people stung or bitten by an insect may experience swelling, pain and redness that may persist for up to a week and usually gets better without treatment. However, some individuals can develop a potentially life-threatening (severe) allergy to insect stings or bites—even after being stung or bitten several times before without a problem.

If you have a stinging or biting insect allergy, consider taking these precautions:
When you go outside, avoid wearing brightly colored clothing or using sweet-smelling lotions, perfumes and shampoos
Always wear shoes
If you're eating, keep your food and trash tightly sealed
If your activity might expose you to insects or their nests (gardening or hiking, for instance), wear pants and long-sleeved shirts
Avoid what you can.
Although you try, not all stings and bites can be avoided, so those with potentially life-threatening allergies to bee venom, wasp venom or fire ant venom should have access to two epinephrine auto-injectors, such as EpiPen® (epinephrine injection, USP) Auto-Injector or its authorized generic, particularly when outdoors.
Treating insect allergies
People with insect allergies can be treated with standardized insect injections (immunotherapy), which may provide long-term protection against insect stings. However, not everyone treated this way remains tolerant to insect stings or bites for life. You may still need to carry EpiPen 2-Pak® or EpiPen Jr 2-Pak® (or their authorized generics).

In case of anaphylaxis triggered by insect bites or stings, administer EpiPen® or EpiPen Jr® (epinephrine injection, USP) Auto-Injector or their authorized generics immediately and seek emergency medical care.