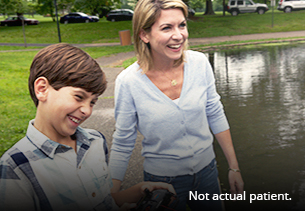 The common, the uncommon and the not so obvious…
Some triggers of anaphylaxis, such as food, are common around the world. However, some triggers are uncommon, like horse dander or even cold water. Other triggers may not be so clear or obvious.Below are just a few examples:
Exercise-induced anaphylaxis
Exercise-induced anaphylaxis is a form of physical allergy with symptoms that include a warm feeling spreading throughout the entire body, itching and redness of the skin. Vigorous forms of physical activity, such as jogging, are more commonly associated with anaphylaxis, although lower levels of exertion (e.g., yard work) are also capable of triggering attacks.

Exercise-induced anaphylaxis is often associated with medications or foods that have been taken or eaten prior to or after exercise. Someone with a history of exercise-induced anaphylaxis due to foods should avoid exercising for four to six hours after eating. Exercise-triggered anaphylaxis has a higher incidence in people genetically predisposed to developing allergic conditions.
Idiopathic anaphylaxis
When no triggers for anaphylaxis can be identified, a diagnosis of idiopathic anaphylaxis is made. If you or your child experiences anaphylaxis and the cause is unknown, your healthcare professional will analyze the events and conditions surrounding the allergic reaction so you can be careful to avoid possible triggers.

Like other forms of life-threatening allergic reactions, a case of exercise-induced or idiopathic anaphylaxis is treated with epinephrine. In case of exercise-induced or idiopathic anaphylaxis, administer EpiPen® (epinephrine injection, USP) or EpiPen Jr® (epinephrine injection, USP) Auto-Injector (or their authorized generics) immediately and seek emergency medical care.