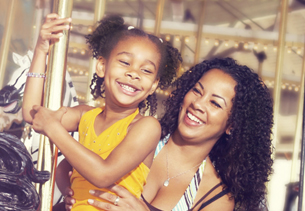 SUMMER FUN HAPPENS. Be Prepared.
Be the first to know!
Sign up now to stay in the know with the latest news and exclusive offers delivered right to your inbox!
Intended for US residents only. For more information, please review our
Privacy Policy.
LIFE HAPPENS. Be Prepared.®
Being prepared means having a plan to:
Avoid known allergens
Know what symptoms to watch for
Use an EpiPen® (epinephrine injection, USP) Auto-Injector if a life-threatening (severe) allergic reaction occurs
Get emergency medical help right away
Wherever summer takes you, keep these tips in mind.
Whether you're on a vacation or a staycation, it's important to remember these 4 steps, and to bring your EpiPen® Auto-Injectors wherever you go.

It's also important to be aware of the challenges and surprises that specific triggers can bring. Here are some tips for summer sorted by trigger:
Know what ingredients are in summertime recipes, and:
Pack food separately
Provide serving utensils for each food separately
Use a plastic tablecloth on picnic tables to avoid food allergens that may have been left on the table
Cook items on a fresh piece of aluminum foil—especially on a park barbecue or grill
Stay aware of your surroundings, and:
To avoid insect stings when dining outdoors, don't wear bright colors, perfume or open-toe shoes; watch out for insects inside straws or canned drinks; and avoid loose-fitting clothing, which can trap insects next to your skin. Also, make sure to have any bee, wasp or hornet nests and fire ant mounds removed by professionals.
Review and use the tips for stinging insects above, and:
Use insect repellent to help keep many insects away
Tips compiled from information from the American Academy of Allergy, Asthma & Immunology (AAAAI) and the American College of Allergy, Asthma & Immunology (ACAAI).
Hit the open road…with a plan.
There's nothing quite like the feeling of freedom when you jump in the car for a summer road trip. However, if you or your family members have potentially life-threatening allergies, it's important to have an anaphylaxis action plan in place.

We can't stress it enough: In addition to avoiding your allergens, always have your EpiPen® Auto-Injectors within reach. A life-threatening (severe) allergic reaction can be unpredictable, and can happen anywhere at any time.

Learn how to make your own anaphylaxis action plan here.
Sending the kids off? Stock up on multiple EpiPen 2-Pak® cartons as prescribed.
Save up to $300 »
Eligibility restrictions apply. Terms and Conditions »
Know what to do in an emergency? How about those closest to you? Watch and share this step-by-step video.