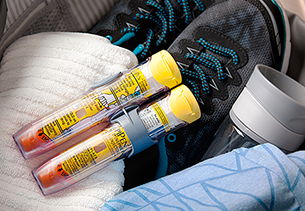 Side effects for
EpiPen

® (

epinephrine

injection, USP) and EpiPen Jr® (

epinephrine

injection, USP) Auto‑Injectors
Tell your healthcare professional about all of your medical conditions, especially if you have asthma, a history of depression, thyroid problems, Parkinson's disease, diabetes, high blood pressure or heart problems, have any other medical conditions, are pregnant or plan to become pregnant, or are breastfeeding or plan to breastfeed. Be sure to also tell your healthcare professional all the medicines you take, especially medicines for asthma. If you have certain medical conditions, or take certain medicines, your condition may get worse or you may have longer lasting side effects when you use EpiPen® or EpiPen Jr®.
Common side effects include fast, irregular or "pounding" heartbeat, sweating, nausea or vomiting, breathing problems, paleness, dizziness, weakness, shakiness, headache, feelings of over excitement, nervousness or anxiety. These side effects usually go away quickly if you lie down and rest. Tell your healthcare professional if you have any side effect that bothers you or that does not go away.
Be the first to know!
Sign up now to stay in the know with the latest news and exclusive offers delivered right to your inbox!
Intended for US residents only. For more information, please review our
Privacy Policy.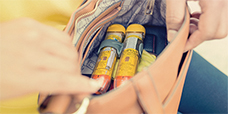 Get reminder emails before your EpiPen® Auto‑Injectors expire.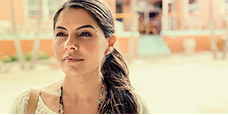 Being prepared means having a plan—one that begins with avoiding your allergens.