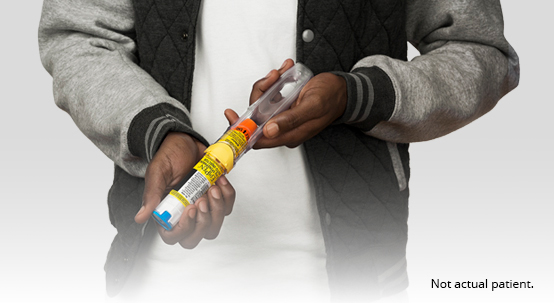 About EpiPen® and Its Authorized Generic
History doesn't always prepare us for the future.
Anaphylaxis is unpredictable. The severity of future anaphylactic reactions cannot be accurately predicted based on the level of sIgE, the size of the skin prick test wheal or the severity of past reaction.1,2 In addition:
Up to 20% of children will not have cutaneous symptoms during an anaphylactic reaction3
Involvement of body organ systems in anaphylaxis varies among patients, and even in the same patient from one allergic reaction to another4-6
EpiPen® and EpiPen Jr® (epinephrine injection, USP), and their authorized generic auto-injectors
Viatris' branded and authorized generic auto-injectors are used for the emergency treatment of the signs and symptoms of anaphylaxis, including pruritus, urticaria, angioedema, flushing, syncope, tachycardia and dyspnea due to laryngeal spasm and/or a decrease in blood pressure. Anaphylaxis can be caused by triggers such as food, biting or stinging insects, medicines, latex or even radiocontrast media and exercise.5-9
EpiPen® Auto-Injector has been the most prescribed brand of self-injectable epinephrine for more than 30 years.10
In that time, nearly 80 million EpiPen® Auto-Injectors have been dispensed.10
Watch a step-by-step video for patients on how to use the EpiPen® Auto-Injector and its authorized generic.
A design familiar to millions10
Viatris' authorized generic is identical to EpiPen® in design and function—only the name on the label is different
Features include8:
Access to two for your patients
EpiPen®, EpiPen Jr® and their authorized generic auto-injectors are available in cartons of two.8,9 Up to 20% of patients need additional doses due to a biphasic reaction or protracted symptoms.1,6 According to national food allergy guidelines, it is recommended to have access to two epinephrine auto-injectors, which provides two sequential doses if needed during an anaphylactic reaction.1 Each carton also includes a Trainer, which may be valuable in promoting patient familiarity with the administration of EpiPen® Auto-Injector or its authorized generic.8,9
References
Boyce JA, Assa'ad A, Burks AW, et al. Guidelines for the diagnosis and management of food allergy in the United States: report of the NIAID-sponsored expert panel. J Allergy Clin Immunol. 2010;126(6 Suppl):S1-S58.
Simons FE. Anaphylaxis: recent advances in assessment and treatment. J Allergy Clin Immunol. 2009;124(4):625-636.
Järvinen KM, Celestin J. Anaphylaxis avoidance and management: educating patients and their caregivers. J Asthma Allergy. 2014;7:95-104.
Dinakar C. Anaphylaxis in children: current understanding and key issues in diagnosis and treatment. Curr Allergy Asthma Rep. 2012;12(6):641-649.
Lieberman P, Nicklas RA, Randolph C, et al. Anaphylaxis­—a practice parameter update 2015. Ann Allergy Asthma Immunol. 2015;115(5):341-384.
Simons FE. Anaphylaxis. J Allergy Clin Immunol. 2010;125(2 Suppl 2):S161-S181.
Volcheck GW. Clinical Allergy: Diagnosis and Management. Rochester, MN: Mayo Foundation for Medical Education and Research; 2009.
EpiPen [prescribing & patient information]. Morgantown, WV: Mylan Specialty L.P.; 12/2020.
Epinephrine Injection, USP [prescribing & patient information]. Morgantown, WV: Mylan Specialty L.P.; 12/2020.
Data on file: IMS Report (1987-September 2020). (Data includes prescriptions for the authorized generic of EpiPen and EpiPen Jr.)
Ram FSF, Hoare K, Arroll B, Hoare S. Epinephrine self-administration in anaphylactic emergencies: comparison of commonly available autoinjectors. J Asthma Allergy Educ. 2012;3(4):178-181.

This site is intended for US healthcare professionals.