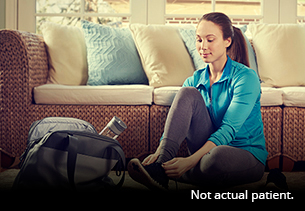 Avoiding Anaphylaxis Triggers
Avoidance is crucial.
Anaphylaxis is unpredictable.1,2 When it comes to being prepared, avoidance of potentially life-threatening allergens is the critical first step to managing a life-threatening allergic reaction; however, accidental exposure can still happen.1,3-5
Common anaphylaxis triggers
Allergens that induce anaphylaxis include food, biting or stinging insects, medications and latex. Additionally, anaphylaxis is occasionally reported after direct exposure to radiocontrast media and can also occur after exercise (Table 1).3,6,7
Table 1. Causes of anaphylaxis3,6,7
Foods*
Peanuts
Tree nuts (e.g., walnuts and pecans)
Fish
Shellfish
Cow's Milk
Soy
Eggs
Wheat
Biting or stinging insects†
Stinging insects (e.g., honeybees, fire ants, yellow jackets, yellow hornets and paper wasps)
Less commonly, biting insects
Medications‡
β-lactams (e.g., penicillin)
Nonsteroidal anti-inflammatory drugs (NSAIDs) (e.g., aspirin and ibuprofen)
Biologic modifiers (e.g., cetuximab, infliximab and omalizumab)
Latex
Exercise§
Radiocontrast media§
A diagnosis of idiopathic anaphylaxis is made when no allergic triggers can be identified based on history, negative skin tests and absent or undetectable serum-specific IgE levels. Every possibility of a hidden or previously unrecognized trigger should be ruled out before a diagnosis of idiopathic anaphylaxis is made.3,6,7
Certain risk factors may increase the likelihood and severity of an anaphylactic reaction; they are discussed in the "Identifying Anaphylaxis" section.6
*Peanuts, tree nuts, fish, shellfish, milk and eggs account for the greatest number of anaphylactic reactions in children; shellfish is the most common trigger in adults.8
†Anaphylactic reactions induced by biting or stinging insects are more common in adults than in children.9
‡Anaphylaxis in response to a medication can occur in patients of any age, but is particularly common in middle-aged and older adults.5
§In some people, exercise and exposure to radiocontrast cause non-immune perturbations of mast cells and basophils, leading to anaphylaxis.6
References
Boyce JA, Assa'ad A, Burks AW, et al. Guidelines for the diagnosis and management of food allergy in the United States: report of the NIAID-sponsored expert panel. J Allergy Clin Immunol. 2010;126(6 suppl):S1-S58.
Simons FE. Anaphylaxis: recent advances in assessment and treatment. J Allergy Clin Immunol. 2009;124(4):625-636.
Lieberman P, Nicklas RA, Randolph C, et al. Anaphylaxis—a practice parameter update 2015. Ann Allergy Asthma Immunol. 2015;115(5):341-384.
Nguyen-Luu NU, Ben-Shoshan M, Alizadehfar R, et al. Inadvertent exposures in children with peanut allergy. Pediatr Allergy Immunol. 2012;23(2):133-139.
Simons FE, Ardusso LR, Bilὸ MB, et al; World Allergy Organization. World Allergy Organization guidelines for the assessment and management of anaphylaxis. World Allergy Organ J. 2011;4(2):13-37.
Simons FE. Anaphylaxis. J Allergy Clin Immunol. 2010;125(2)(suppl 2):S161-S181.
Volcheck GW. Clinical Allergy: Diagnosis and Management. Rochester, MN: Mayo Foundation for Medical Education and Research; 2009.
Cianferoni A, Muraro A. Food-induced anaphylaxis. Immunol Allergy Clin North Am. 2012;32(1):165-195.
Golden DB, Moffitt J, Nicklas RA, et al. Stinging insect hypersensitivity: a practice parameter update 2011. J Allergy Clin Immunol. 2011;127(4):852-854.e1-23.

This site is intended for US healthcare professionals.