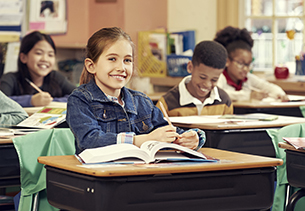 Approximately 1 in 13 children are affected by food allergies1—and children at risk for anaphylaxis may be present in almost every classroom1,2. An estimated 18% to 23% of children with food allergies experience reactions at school.3
As a school nurse, you know that readily accessible epinephrine auto-injectors are integral to the emergency treatment of children with food allergies4. Epinephrine is the only first-line therapy for anaphylaxis, according to The National Institute of Allergy and Infectious Diseases guidelines.5 But not all children at risk for anaphylaxis have received an epinephrine prescription or always carry their auto-injectors with them.6,7
That's where the EpiPen4Schools® program can help. EpiPen4Schools is offered by Mylan Specialty, the marketer and distributor of EpiPen® and EpiPen Jr® (epinephrine injection, USP) Auto-Injectors, to help improve access to epinephrine in the school setting.
How EpiPen4Schools® works
The EpiPen4Schools® program provides up to four free EpiPen® or EpiPen Jr® (epinephrine injection, USP) Auto-Injectors, along with EpiPen® Trainers, a storage locker and a detailed training video, to qualifying public and private kindergarten, elementary, middle and high schools in the US.
To participate in EpiPen4Schools®, a school nurse or other authorized school representative must visit www.EpiPen4Schools.com to download the order and certification form, and then fax or email the form with a valid prescription to 1-973-718-4328 or info@bioridgepharma.com. Alternatively, school representatives can call 1-973-845-7600 to speak with a live representative. There is no requirement for a school to purchase additional EpiPen® Auto-Injectors or any other Mylan Specialty product.
Training materials are provided free
The school nurse should train school staff on where EpiPen® Auto-Injectors are located, as well as how and when to use them. To help you, Mylan offers free training materials you may download or order at the following links:
Anaphylaxis: Know It. See It. Treat It.
Note: You must register to access this video
View now >
How to Use EpiPen® (epinephrine injection, USP) Auto-Injector
View now >
Additional EpiPen® Trainers
Order a Trainer for free.
Order now >
When parents request a 504 Plan
Section 504 of the Rehabilitation Act of 1973 and the Americans with Disabilities Act of 1990 (ADA) are major pieces of federal legislation designed to protect the civil rights of individuals with disabilities.8-10 They define a disability as "an impairment that limits a major life activity."10-12 In food allergies, three major life activities—eating, breathing, and caring for self—could be affected.10,11
Parents of children with potentially life-threatening allergies have the right to request a 504 Plan for their child's school to document how teachers and other staff will address trigger avoidance and anaphylaxis treatment.8,9
Developed by the school in collaboration with the parent and child, a 504 Plan details the child's medical needs and the precautions that must be taken to help manage his/her severe allergies. It may also address the way snacks should be served and stored, how often the child should wash his/her hands, how the classroom should be cleaned and other issues.9,11
The school nurse's vital role
School nurses are essential advocates for anaphylaxis management. According to the National Association of School Nurses (NASN), "the registered professional school nurse…is the leader in a comprehensive management approach which includes planning and coordination of care, educating staff ...and ensuring prompt emergency response should exposure to a life-threatening allergen occur."13
For further discussion of some of the issues surrounding anaphylaxis management in schools, read the NASN's position statement.
EpiPen4Schools® is a registered trademark of Mylan Inc.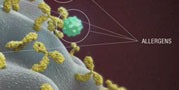 There's only one recommended first line treatment for anaphylaxis.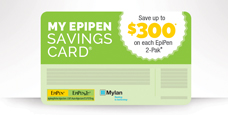 Help patients afford their EpiPen® Auto-Injector prescriptions.
Restrictions apply.
Terms and Conditions »