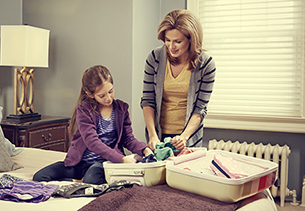 Are your eligible patients using the My EpiPen Savings Card®?
Eligible patients can receive up to 3 EpiPen 2-Pak® cartons (6 EpiPen® Auto-Injectors) for $0. Tell your patients about it and help them reduce their out-of-pocket costs and be prepared in more places. Restrictions apply; see the offer details for full Terms and Conditions.
How many EpiPen 2-Pak® cartons does a patient need?
You may notice that doctors are prescribing EpiPen 2-Pak® cartons for multiple locations to help patients be prepared for anaphylactic emergencies. Here's why it's important to dispense as written:
Nearly half of anaphylactic reactions occur outside the home—in places like work, school, restaurants, outdoors or while traveling1
Patients should have immediate access to 2 epinephrine auto-injectors at all times, according to National Institute of Allergy and Infectious Disease (NIAID) guidelines. Up to 20% of patients may require a second dose of epinephrine, due to protracted symptoms or a biphasic reaction. Dispensing multiple cartons helps keep patients from splitting up EpiPen 2-Pak® cartons2,3
Here's how to order the EpiPen Auto-Injector.4
| EpiPen® Auto-Injector | NDC number |
| --- | --- |
| EpiPen 2-Pak® (0.3 mg) | 49502-500-02 |
| EpiPen Jr 2-Pak® (0.15 mg) | 49502-501-02 |
You can order EpiPen® Auto-Injectors from your wholesaler. For further information, please call
800-395-3376.
Always dispense epinephrine auto-injector prescriptions as written. Many patients, caregivers and school nurses are familiar with EpiPen® Auto-Injector.5 Dispensing a different auto-injector than what patients are prescribed and trained on could lead to patient confusion, according to Ram et al.6 (Patients may watch a step-by-step video at epipen.com.)
There's no time for errors.
Epinephrine auto-injectors are used under stressful conditions for emergency treatment of life-threatening allergic reactions, during which epinephrine must be administered quickly and correctly.3,6,7
All epinephrine auto-injectors are not the same.
Different brands of epinephrine auto-injectors have different instructions for use. Therapeutic interchange from one epinephrine auto-injector to another impacts workflow, including prescriber approval and patient training on the alternate device.6
Features
EpiPen® Auto-Injector4
Epinephrine injection, USP auto-injector8
(Adrenaclick® authorized generic)
# of safety caps to remove prior to use
1
2
Color of caps
Blue
Both blue
Color of injection end
Orange
Red (once cap is removed)
Indicator of use
Audible click and extension of orange tip
Exposed needle
Built-in needle protection
Yes
No (must re-cap)
Appearance (shape)
Oval-shaped
Cylindrical
Trainer included in carton
Yes
No
Download the EpiPen® Patient Information for complete instructions for use, and watch a step-by-step video.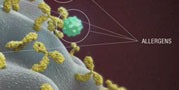 There's only one recommended first-line treatment for anaphylaxis.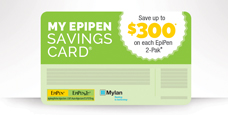 Eligible patients can save up to $300 on their prescription.
Restrictions apply.
Terms and Conditions »